Projects Logistics
Project Logistics division believes in partnering with its customers through innovative business models. It bring years of expertise with diverse industries and offer insights into managing logistics for capital goods across segments for providing heavy haulage transportation and heavy lift services.
Our strength lies in our network and relationships, built on trust and reliability. We focus on tailoring solutions for our partners, and build lasting relationships with a view to integrate ourselves in our customers' business processes, ensuring our teams are always a step ahead in anticipating customer needs and delivering results exceeding your requirements.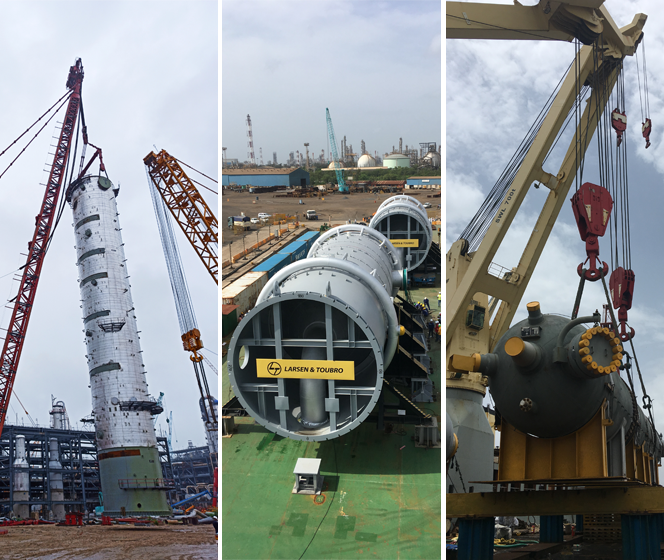 Equipment
Goldhofer hydraulic axle
140
Heavy lift Ro - Ro barges
1
Heavy duty cranes of various lifting capacities
3
500 T Four point jacking system
3
MHE like forklifts, excavators, pay loaders, grabs, hoppers, Hydra
4
Scheuerle SPMTs (Kamag Series)
56
Fleet of Volvo prime movers
14
Contact Us
ADD
J M BAXI Heavy Pvt Ltd
Godrej Coliseum, Office No. 1201, 12th Floor, 'A' Wing, Behind Everard Nagar, Off. Somaiya Hospital Road, Sion (East), Mumbai 400 022, Maharashtra, India.
Registered
ADD
Godrej Coliseum, Office No. 801, 8th Floor, 'C' Wing, Behind Everard Nagar, Off. Somaiya Hospital Road, Sion East, Mumbai 400 022
CIN
U63030MH2017PTC293242