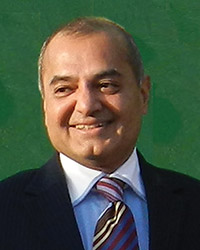 Dear Friends and Colleagues, The last few weeks have seen several interesting HEADLINES in various parts of the world and across sectors.
The recession
Global concern about the possibility of a recession is looming large. A recent study showed that the US, the UK, and Germany are very likely to have a recession (65 percent or more). India has the least possibility of a recession out of all the countries assessed.
US trade volumes
The US has seen a drop in container and cargo volumes.
Shipping freight rates
Shipping rates, especially in the container shipping world have seen a major drop in freight rates.
New ship launches
Container ships of 24,000 plus TEU capacity are beginning to come out of our shipyards, the latest being OOCL Piraeus and ONE Innovation. Several of the large new ships are capable of dual fuel usage.
India export
India's export basket sees a new addition in the top 5 placed commodities, with exports of smartphones reaching one of the top spots, after diesel and diamonds.
Climate change
It has been confirmed that the world this year will see the EI Nino, a weather condition that occurs due to higher ocean warming. It will impact different parts of the world in different ways. The world saw the EI Nino seven years ago. India was then impacted by a late and lethargic monsoon.
Apart from the dramatic headlines, let us look at what is happening closer to home. As mentioned above, India has continued to be a brighter spot in an otherwise anaemic and disturbed world. The dual efforts of boosting infrastructure on one hand, and creating the ability to manufacture, are powerful ongoing initiatives. Elevating both infrastructure and manufacturing to a global scale and scope will boost the GDP, as also exports and employment. If India has to achieve the US $ 5 trillion economy and beyond, this effort cannot be allowed to slow down. Along with the push for renewable energy as a continuing objective, India currently has 172.54 GW of renewable energy, amounting to 41.4 percent of the total electrical generating capacity.
On the specific sector of ports we continue to see growth, especially in the expansion of existing ports and the creation of new ports. The government of Andhra Pradesh is constructing three new ports at Ramayapatnam, Bhavanapadu and Machilipatnam.
In Gujarat, the Kandla Port Authority has concessioned out the Tuna Tekra container terminal to DP World, and in some time we will see a large container terminal opening up there.
The Dedicated Freight Corridor (DFC) of the railways will also be completed, providing a quantum jump to rail- based logistics and transportation of various commodities as well as containers. The reason we specifically talk about and remind ourselves of the DFC is that this paradigm change will enable the possibility of longer trains, which will not only bring down costs (considering that railways authorities are fair) but also enable a greater amount of container traffic to transition to rail, from road. This would undoubtedly help to bring down the carbon footprint in the transport and logistics sectors. International shipping companies are increasingly ordering new ships with dual fuel usage capabilities. Interestingly, some of the green fuels like green methanol, are not yet available (if available, it will be with great difficulty), and still, shipping companies have taken the leap into the inevitable journey of clean and green transport.
Indian ports and various terminal operators are also preparing themselves to have ports as green hubs. Not only will terminals such as ours, be completely carbon neutral, but they will also provide green power to ships as well as the transport trucks and trailers that come to our terminals. The new regime of international trade will demand that not only transport and port handling be green, but also manufacturing and exports be clean and green and zero / minimum carbon emission compliant. This will therefore see ports increasingly becoming physical elements of the manufacturing and supply chain strategies. Aggressive climate change is forcing the world towards such measures.
Global weather forecasters have declared that 2023 will see the EI Nino.
Krishna B. Kotak
Chairman - J M BAXI GROUP