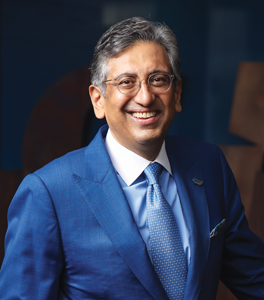 Dr. Anil Sharma is the Founder and CEO of Global Marketing Systems (GMS)—the world's largest buyer of ships and offshore assets for recycling. A first-generation businessman, Dr. Sharma was an academician for a decade, prior to founding GMS. He has been credited with formulating the term 'ship recycling' (previously known as ship breaking or demolition), and has set high standards for the maritime sector with regards to ethical and fair business practices. Dr. Sharma holds a Masters and a Doctorate in Business Administration.
GMS is headquartered in Dubai and has an in-house team of experts dealing with the recycling of aged vessels by providing end-to-end ESGfriendly solutions to ship owners with vintage assets.
Tell us about your incredible journey from academia to maritime.
Usually, when you start a business, you have a particular idea of what you want to do. But when you start at zero, you take one step at a time and don't imagine you will be an industry leader one day. The journey is very organic.
I was born and brought up in Bhavnagar, India. After my bachelor's degree in Ahmedabad, I went to the USA for my Masters and, subsequently, a Doctorate in Business. Post graduation, I taught full-time at a university near Washington DC, for nine years. I was a professor in business management and enjoyed my life in academia.
I didn't know about the maritime business, shipping or ship recycling. However, I knew several recyclers back in Alang because my family lived in Bhavnagar and still do. Most of these recyclers were moving to Bhavnagar from Mumbai and other cities to participate in the formative years of ship recycling in India. As luck would have it, my father owned a transportation business (trucking company) in Bhavnagar that brought household furniture and other personal items to customer's new homes in Bhavnagar.
At the same time, the US Maritime Administration - Department of Transportation (MARAD) was looking to sell obsolete naval vessels from its reserve fleets based in the USA. These were high-value vessels due to their high non-ferrous content. I often got calls from my brother and his friends asking me to try and buy these vessels on their behalf. This was way back in the early 90s. I saw this as an opportunity worth trying.
My academic background helped with reading and understanding the long, complicated legal contracts of MARAD. I successfully closed my very first ship deal in January 1992. Since GMS was not born yet, I bid under my name for this ship, despite the seemingly daunting size, scope and liabilities. Fortunately, I was able to deliver the ship successfully to Alang.
Armed with this knowledge and confidence, I started participating in all MARAD tenders and bought six out of the eight ships MARAD sold that year. I think what helped me was that we displayed a high degree of professionalism.
In 1993, out of the blue, I got a call from the Russian Consulate in Washington DC saying they got my reference from MARAD and invited me to buy obsolete naval vessels for demolition from the Russian fleet. By then, I had formed GMS, and with the help of the Russian Consulate, I flew into Russia – whose economy was just opening up. Those initial years were extremely challenging, dangerous and exciting.
For the next few years, I simultaneously continued teaching while buying naval vessels from the USA and Russia. Who would have thought that an Indian played a small role in clearing the mothballed American and Russian Naval Fleet?
We would buy ships, prepare them for towage and then tow them across the Atlantic or Pacific Oceans. We did this all without any expertise in shipping. In 1996, I finally resigned from my teaching career to fully concentrate on the commercial aspects of the shipping business. I moved out of the basement of my home office to the most prominent office building in Cumberland (where I lived). The rest, as they say, is history. It's been an incredible journey - 30 years and still going strong.
Can you describe the typical process/ business flow of the sector? Do you buy a ship as is and then use it for a final cargo voyage or two - or directly proceed to demolition?
Once purchased, next steps depend on the contract we have with the sellers. In some cases, sellers will deliver the vessel to the ship recycling yards, but in many cases, they will give it to us as is, at the last port of discharge. If the vessels are still operating well, have upto-date certification, and the contract with sellers allows buyers to trade the vessel, the vessel may make a final voyage before going to the recycling yard (this applies mainly to bulkers).
In some cases, sellers prefer to sell vintage assets for trading. These assets are generally purchased for our ship-owning arm, Lila Global. In such cases, we approach the seller and are transparent about our desire to operate the vessel in our fleet. We truly believe that as long as vessels continue to burn fossil fuels, extending the life of a perfectly good vessel creates lower carbon emissions than building new ships. However, in some cases, the seller does not wish for the vessel to be operated further, but to go directly to the shipyard for recycling (to reduce capacity). In such cases, we do exactly as the owner wishes.
While GMS began with solely ship recycling, ship operating and cargo handling is a relatively new segment that began in 2006. We are fortunate to play a role in the three 'R's- Reduce, Reuse, Recycle enabling us to do our part in reducing carbon footprint.
What are the factors that determine the success of GMS and its foremost position in the ship recycling space for this long?
Our business practice is aimed at not just delivering value for our clients but also staying true to our values, which determine our long-term reputation. For me, the focus is on understanding the client's needs and ensuring we go the extra mile to deliver above and beyond those needs.
A particular aspect that GMS brings to the table is to simplify the recycling process and making it easy for owners to sell their ships, hassle-free. We look at the big picture and collaborate with various stakeholders in the industry. We work with industry organizations like IMO, BIMCO, etc., to structure ship recycling contracts, which have now become standard contracts used by the maritime industry across the globe.
We also created the Vessel Detail Form (VDF), a one-page questionnaire that an owner can complete in less than an hour. Once we have this questionnaire, we can promptly revert with a firm offer to the sellers. In fact, one of the most expensive recycling deals in history was completed in a few hours on a Friday evening! The VDF has become the standard industry questionnaire we all see today. None of these documents were designed to be proprietary because it's implementation is good for the sector as a whole. We genuinely believe in the communal spirit of the maritime industry and work hard not just to be a part of its future but to be a guiding light for its best practices.
With an aging global shipping fleet on one side, a turbulent economy on the other side, and tighter ESG norms coming in on the 3rd side, how do you see the next couple of years for the demolition industry?
The most significant factor affecting ship recycling is freight rates, which are much more critical than the a fleet's age. Various external forces can impact freight rates, including recession, interest rates, lack of capital, oversupply of vessels and so forth. From 2003 to 2007, we had a favorable economic market followed by a recession and a short market resurgence. However, in 2022, there was a distinct shortage of vessels, making it one of the slowest years of recycling in 15 years, with just 11.5 Mn ton of deadweight for recycling. At the peak of 2012, almost 57 Mn ton of dead weight was recycled!!
While 2022 was not as bad as the global meltdown of 2007 (with just 5.5 Mn ton of deadweight for recycling), last year was challenging in this market. But 2023 is destined to be a busy year for ship recycling. Container ships are likely to lead the supply of vessels, followed by dry bulk. We expect the recycling volumes to triple (about 30 Mn ton) in 2023 compared to 2022. We believe that this tonnage will be phased out of circulation in part due to regulations, the changing attitudes towards fuel efficiency but primarily due to falling freight rates, recessionary global outlook, and overcapacity in this sector. We also believe that the Carbon Intensity Indicator (CII), the Energy Efficiency Existing Ship Index (EEXI), and other such regulations will have a much more significant impact on the container fleet than other sectors.
Is UP-CYCLING an area you will look into rather than just demolition - making old vessels seaworthy (hull or propellor upgrade etc) and delaying their visit to Alang? Or is that counterproductive from GMS' business model perspective?
As I mentioned earlier, GMS truly believes in embodying the principles of big-picture thinking and sustainable best practices. My team and I have discussed this point at great length, and we think it is better to increase the life of a ship than prematurely recycle it since building more ships creates a bigger carbon footprint. It is worth remembering that the new vessels being built to replace these ships will also run on the same fossil fuels that the existing ships burn. Therefore, fuel efficiencies created by the new generation 'eco' ships far outweigh the carbon emissions generated to build ships (our research team estimates the increase to be as high as 2 to 3 times more). A few decades ago, a ship was considered a scrap candidate at 30 years. Today, regrettably, the life expectancy is 20 years! Ironically, the US still runs some of the oldest ships in its cabotage trade. In fact, we have seen 50-year-old vessels still trading in US waters. Therefore, extending the life of vintage assets —as long as the unit is well maintained and is International Association of Classification Societies (IACS) approved—is an ideal solution.
We believe there are ways to retrofit vessels with modern technologies, harness the power of data analysis to optimise operations, and use skilled crew to keep the vessel first-rate. We have research demonstrating the ESG value of lengthening the vessel's lifecycle and avoiding shorter recycling cycles. This kind of thinking led us to form our ship-owning arm Lila Global, which currently is focused on accruing quality vintage and mid-aged ships.
While all vessels will need to be recycled at the end of their lives, if it is still safe to operate the vessel, recycling is the best way to reduce shipping's impact on the environment and fight climate change, invest in non-fossil fuel technologies, and extend the life cycle of a vessel.
What is your take on digitisation in the maritime industry, within your sphere? Could you also put some light in the recent initiatives from your end ?
I am a firm believer in technology. We as an industry are lagging behind other sectors. However we are seeing a movement towards embracing technology. When I was in Japan before the COVID-19 pandemic, an industry expert said that 30 years ago, Japan's shipbuilding industry suffered from the three 'D's – Dirty, Dangerous and Depressing. Since then, the industry has made sweeping improvements and leapfrogged into the 21st century, emerging as the leading shipbuilding nation in the world known for quality ships. However, unlike the automobile industry the technological changes in a modern ship compared to a tenyear-old ship are incremental (not transformational). Compare this to the latest model of a BMW with a ten-yearold model! It's time for the maritime industry to incorporate artificial intelligence, robotics, machine learning, remote operations, etc., to bring this vital industry to a place where we are ready for tomorrow. Technology can improve our chartering, operations, and accounting in addition to making the physical environment of a ship more efficient and crew friendly.
Our GMS team recently debuted the world's first ship-recycling app and successfully closed our first shiprecycling deal on it. I am excited to see how we can integrate digital platforms and apps like this to help various stakeholders interact seamlessly rather than deal with many un-connected siloed systems. We are aiming to digitalize the entire ship recycling commercial operations.
Is the maritime industry going to be attractive to young people in the future? How do we make that happen?
I believe that maritime holds the potential to attract the best and brightest minds of the younger generation. But, we must make this a more inclusive industry to work in. Diversity needs to be prioritized because the more unique perspectives we can bring to the table, the more innovative our solutions can become. I am a strong proponent of women working in the maritime space. We have already seen examples of phenomenal growth in shipping companies led by women CEOs and Founders. As recently as a decade ago, there were few such examples. This generation of young women CEOs has already broken stereotypes of the male-dominated shipping fraternity and is a role model for a new generation of young adults.
In today's tech-heavy world, we need young talent to help us all lead the technological revolution in the maritime industry.
Even though a career in ship recycling may not be considered highly appealing, we are very proud that most of our workforce comprises young adults, some of whom have graduated from some of the leading maritime institutions of the world! I hope we can see even greater diversity in the future, including neurodiversity. With the right environment of acceptance, I foresee many members of the younger generation looking at maritime as a career.