The Government of India (GOI) has recognized in recent times the potential of giving a substantial boost to the tourism sector by promoting cruise tourism in the country. Tourism is one of the sectors that already makes a huge contribution to the gross domestic product and foreign exchange earnings. According to GOI, India has the potential in the near future to host almost 1000 cruise ship calls per year as compared to 150–160 cruise ship calls per year at present.
In order to achieve this, in August 2017 the GOI released three reports – "Road map for sea cruise tourism", "Mumbai port sop for cruise operations" and "Cruise terminals in India".
A task force was also formed in 2015 by the GOI to conduct a study involving inputs and feedback from all concerned stakeholders – carriers, port administrations, immigration, customs, port health authorities, security agencies, ship agents, travel and tourism agents, transportation providers.
INFRASTRUCTURE
New infrastructure is being created at Mumbai at a reported cost of Rs. 300 crore. There are plans to develop similar upgrading of infrastructure at the 5 ports of Mumbai, M'goa, New Mangalore, Cochin and Chennai. Similar facility creation is also planned at other port destinations.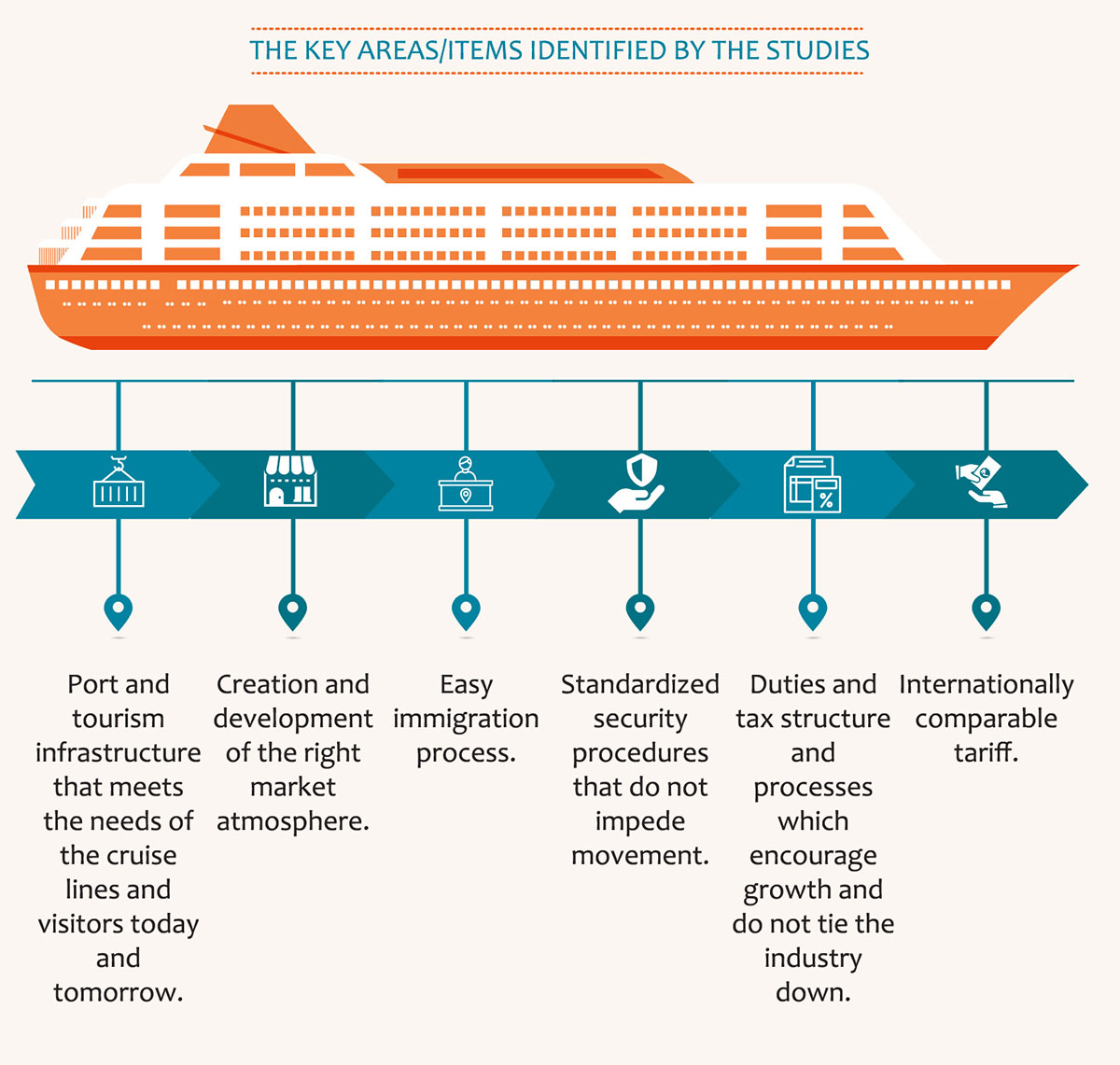 The basic objective is to create terminal facilities comparable with international standards at all port locations dedicated to cruise ship, so that the facilities are capable of interfacing with benchmarks of services and processes required for providing a 'wow' experience to passengers embarking/disembarking. They include some of the following: the isolation of the main access points (gates) of the cruise area of the port - to the cruise terminal - including the vessel - as well as the waterfront, where the cruise vessel is berthed from other cargo vessels and their work, dedicated entry/ exit gate for passenger movement, dedicated approach road to cruise terminal, adequate barricades/ stanchions for deployment and guidance of passengers, clear signage boards, parking space for vehicles near the terminal, availability of prepaid taxi counters, segregation/ demarcation of berthing area, computer systems with appropriate software for passenger handling, scanning facilities (x-bis), conveyor belts, baggage loading and collecting points, dfmds, hhmds and evds, barcode readers to cross-check e-landing cards, utility services like washrooms, souvenir shops, coffee shops, eateries, bank exchange counters and duty-free outlets (on a daily rental basis during the cruise season) inside the terminal for passengers and on similar lines outside the terminal for drivers/conductors/guides/agents, effective pass system for travel/tour operators, agents, guides, buses and other vehicles with clear-cut validity for the cruise season.
(to be continued in issue XXI)