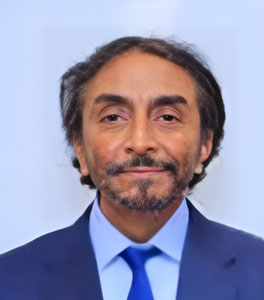 Mr. Deepak Shetty, I.R.S.(Retd.) is a Former Secretary to the Government of India and Director General of Shipping. He is from the Indian Revenue Service (Customs and Central Excise) - 1980 batch. He retired from his civil service career spanning a little over 36 years, at the end of 2016. He served as Director General of Shipping for 2 years in 2015-16. Prior to this, he was assigned Joint Director General of Shipping for 4 years from 2011 to 2014. He has served in multiple official assignments, across the Ministries of Finance, Textiles and Shipping in the Government of India.
He currently serves as Senior Adviser to the Maritime Anti-Corruption Network (MACN) - Copenhagen, Director-cum-Trustee of the International Seafarers Welfare and Assistance Network (ISWAN) - London, Maritime Sanctions Expert of the United Nations (UN) - New York and is an Independent Director on the Boards of Directors of several Indian companies.
Here is an excerpt of the chat with the Tidings team. He offers his 'big picture' perspective on the maritime industry and the road ahead.
The maritime industry - an important and strategic cog in the national economic wheel:
India is currently the fastest-growing economy across the globe and is a silver lining in a rather gloomy international economic outlook, given that we are clocking around 6-7 percent GDP growth, annually. This is attributable to smart business and governance decisions taken over the years, enabling us to insulate ourselves from the financial and economic tremors felt across the globe. Projections from the World Bank, International Monetary Fund, Asian Development Bank etc. indicate that India is set for consistently steady growth over the next 2-3 decades. Presently it has overtaken UK, to become the 5th largest economy in the world, behind Germany, Japan, China and USA. As of now, Indian GDP is positioned at around US $ 3.2 Tn. However, it is estimated to grow between US $ 8 - 10 Tn by 2030. Some projections place Indian GDP at US $ 42 Tn by 2050. We could surge ahead of the US to become the number 2 economy and possibly even overtake China beyond 2050.
When poised for this scale of growth, shipping becomes a critical component of the overall economic paradigm and infrastructure. EXIM cargo carried on Indian maritime bottoms has sharply declined from an all-time high of 40- 42 percent until 1988, to 6-7 percent currently. Policymakers need to boost Indian flag shipping substantially to 15 percent and beyond. Approximately US $ 56 – 58 Bn is the annual freight payment outgo from India to overseas carriers.
The Government in consultation with stakeholders, must recognize that Indian shipping requires a boost, if we are to make headway. While foreign shipping has its positives, we cannot rely on it totally, in situations characterized by geo-political-strategic tensions or sanctions in the international arena.
We must protect our sovereign interest, and therefore need to have a bare minimum tonnage under our own fold. It is interesting to note that section 411 of the Indian Merchant Shipping Act, 1958, provisions that in specified circumstances, the Director General of Shipping, Government of India can invoke powers invested in them to issue directions to the Indian flag fleet for stipulated purposes in national interest. However, these powers cannot be exercised with foreign flag vessels.
While structural rigidity in the shipping sector has eased, facilitated by Government policies, more ground needs to be covered. Taxation merits are being re-looked at, so that the shipping sector is given a major leg-up. Moreover, we need to have a comprehensive and holistic national transportation policy that encompasses all the four verticals - civil aviation, roadways, shipping and railways, that leverages their potential synergies.
Bridging the gap between government and industry:
There is increasing transparency in governance now. I recall when I joined the civil service in 1980 it was quite the opposite. We grew in an eco-system where revenue collection was paramount and there was an ingrained suspicion about the private sector. Today, there is a conscious and structured engagement with stakeholders across the spectrum. The watershed moment was in 2013, when there was a clear directive issued by the Government of India to the effect that (other than the budget or finance bill which requires confidentiality) every other public policy document to be formulated or amended must follow a rigorous process of consultation and engagement with stakeholders.
This was a huge leap of faith for the Government towards increasing transparency and accountability. Illustratively, I recall the Admiralty Bill in 2015, when I was Director General of Shipping. The backdrop was that the Supreme Court had persuaded the Government, as far back as in 1992, to bring in a new admiralty legal framework to replace the archaic British era Admiralty Acts of 1831-1890. We took it upon ourselves to go about this process and initiated the drafting of a new and all-encompassing Admiralty Bill. We would spend time, calling in stakeholders, extensively discussing with them and factoring their inputs. It was a complex piece of legislation. It took us about a year of persistent and rigorous efforts to draft this entirely new and modern legislative framework. After we had drafted it, we put it out in the public domain, to solicit informed comments and opinions. Post that, before finalising the new Admiralty Bill- 2015 all acceptable inputs were duly factored in. If a further consultation was required with stakeholders, it was done. However, after finalising this draft legislation and while sending it to the Government, it was imperative to capture the feedback given by the industry and place on record which ideas were considered and which were not, accompanied by detailed justifications. This crucial document was made a part of the overall policy framework draft document that went all the way up to the competent authority, at the highest level, in the Government of India. The idea was for them to evaluate if the requisite consultations had taken place extensively, transparently and fairly. That is the measure of confidence building that has taken place over the years. My urge to the industry has been to consistently remain clued into the websites of the appropriate policy making authorities, as every policy and amendments follow the same rigorous procedure of engagement and consultation. The industry must leverage this opportunity by contributing to policy making, for their own benefit.
Industry collaboration:
I would like to underscore is that we are a fragmented industry with people speaking in different voices, often at cross-purposes. The industry needs to put up a reasonably united front with a minimum common agenda if it is to move ahead. My stint as the additional Textile Commissioner, was an eye opener on how an entire industry can move ahead when all stakeholders collaborate. Initially all the players, down-stream and up-stream along the value chain, were competing against each other - raw cotton producers, spinners, weavers, processors, apparel made-ups manufacturers etc. It became clear that no one stood a chance unless the entire value chain with all entities, becomes cohesive and consensual. We in the Government had then advocated that the textile industry ought to come to a common consensus and put up a united front. This had then enabled the Government to formulate and prioritise policies to confront bigger challenges before the industry. This approach ultimately benefited all its players, as opposed to dealing with disparate elements and smaller issues that impacted only a few. This led to the consolidation of the industry under one common banner that they subsequently brought about in the form of the Confederation of Indian Textile Industry (CITI) comprising nearly all the multiple constituents of the industry. So now when the Government hears them as one voice, they know that there is a reasonable impact of their articulations. Similarly, the maritime industry should aim to have a confederation of its own. My advice is that we need to transcend our diverse turf issues and must subsume some of our narrow partisan interests if we are to surge ahead as a robust and force-for-good industry.
Imperative of constant dialogue with the Government:
The Government increasingly prefers to have a high level of deeper engagement with industries. However, dialoguing with the Government can be effective only when the industry is proactive and offers structured and constructive feedback and suggestions. There are multiple fora and institutions to express diverse points of view – portals of the Government of India's Ministries, departments, grievance fora, Central Vigilance Commission, Directorate General of Shipping etc.
Of course, both parties need to come to the table prepared - thorough domain and all-round knowledge. There must be demonstrable professionalism by articulating needs reasonably and clearly. Non-constructive suggestions laced with unwarranted critiquing and without reasonable propositions, tend to place government officials into reactive mode and that benefits no one. Recommendations should also come in the form of tangible objectives that can be achieved, as opposed to grandiose ideas that may be too big to bite. To that end, it is imperative to break-down strategies, into short-term, mid-term and long-term holistic goals.
Of course, it is unreasonable to assume that all suggestions offered by the industry and trade may end up getting translated into action, as the government cannot yield to everything sought. There has to be a fine balance between the imperatives of governance, prioritization in the face of resource limitations, management of competing forces, while keeping in mind national interests, and the eco-system of international elements. All this said, the industry must leverage this opportunity of engagement with the Government, which is available as an institutional mechanism.
Manpower and skill development:
When it comes to human resources, there needs to be an enduring commitment and calibrated investment in skill and capacity building, as the industry scales up. With an eye on the future, the industry needs to constantly assess the appropriate skill sets required to be future ready. Accordingly, training and retraining needs to be approached from that prism.
Technology is overtaking the maritime industry at an exponential pace. It has been reported that in May-June, 2022 the 1,80,000 cu.m. LNG carrier Prism Courage had successfully conducted a 33-days voyage from Freeport, Texas, USA, to South Korea's Boryeong Port LNG Terminal, covering about 10,800 nautical miles (half of its overall voyage of over 20,000 nautical miles) which was navigated autonomously. In another 10 years and beyond, technology would have progressed further, potentially paving the way for semi-autonomous and eventually autonomous merchant vessels. In that eventuality what do we do with our manpower - do we re-skill them, do we re-assign them to shore jobs etc. – is for us to think through and address.
Cyber risks:
Given the extent of digitalization - IT, ITeS, ICT, AI, ML, Drones, Big Data etc., and the way automation and disruptions will take over in the future, the industry will need to be mindful of cyber risk downsides. Illustratively, the scenario of sophisticated cyber jacking, potentially leading to the take-over by cyber criminals and cyber pirates of a ship's command and control structure, for release on payment of ransom (possibly via crypto-currencies) is no more fictitious. The 9/11 civil aviation attacks in the USA, over 20 years ago, were orchestrated remotely by deploying steganography tools. Cybercriminals can orchestrate a DDOS (distributed denial of service) attack, where connected computer terminals get frozen across locations, on the back of ransomware, in return for a ransom. India has the Information Technology Act, 2000, as amended, which is a comprehensive legislative framework to deter and mitigate an array of cybercrimes, bearing a prescriptive template of do's and don'ts for the consideration of both the public and private sectors. This can be gainfully leveraged to conduct scenario building exercises to check for preparedness.
Risk management:
Shipping is intrinsically intertwined with the global economy. Policy planners and industry must have a 360 degree view of all world-wide developments. More so, as this decade is characterized by salient geo-political-strategic disruptions and risks over which we have very little control, but all the same, face their significant impact. COVID-19, the Ukraine-Russia conflict, tensions in West Asia, other 'hot spots', volatility in the availability and price of oil are examples. The world does not operate largely on a multilateralism basis, anymore. Every country is now looking at its own national sovereign and strategic interests to protect, promote and build defensive walls against exports and imports by using tariff barriers, non-tariff barriers, labour standards, environmental protection norms etc.
There is a need to clearly focus on risk management by organisations to help foresee situations, build mitigation and backup plans, and introduce resilience measures. Unfortunately, risk management is not taken seriously by most, and is viewed as a compliance tool because of legislative and regulatory mandates. Therefore, it is imperative to have a Chief Risk Officer in every company with a dedicated team, and a nuanced risk management policy, that scans of the horizon, understands external and internal risks, and takes timely measures.
Climate change:
Climate change is for real, with its catastrophic consequences manifest across the globe. Europe had the hottest summer, the perennial wildfires in California, the forest blaze in Australia etc. indicate that we need to commit to and invest in corrective steps. Another example is the drying of the Mississippi River, known for its vast reach and powerful currents. It has now withered to unprecedented levels, choking shipping lanes, revealing wreckage of ships and planes, and sand dunes developed in patches. All-round decarbonization is a critical imperative.
Good governance:
Many organizations view corporate governance through a narrow prism. It is not just about CSR and offering shareholders value, but positively impacting a wider set of stakeholders, and taking them into consideration. Corporate entities like Arthur Anderson, Lehman Brothers, Satyam, IL&FS etc. fell through due to lack of responsible governance. Businesses with good governance stay in the race for the long haul and are considered sustainable. Investors worldwide veer towards entities that invest in good governance, ESG and climate change adaptation. In fact, such companies are able to mobilize money from the markets at a 0.5 to 0.75 basis points lesser interest rate as they are viewed as sustainable. This is true for the maritime industry as well.
Business integrity, transparency, accountability and anti-bribery are critical components linked to good governance. I would urge maritime companies to consider becoming members of the UN Global Compact (UNGC) which is a voluntary commitment towards adopting sustainable and socially responsible policies. It's a simple framework, comprising 10 principles including labour standards, anti-corruption and environmental protection. Here, shared best practices and information flows build pressure towards incorporating socially responsible policies into a company's ethos. Another effective body is the Maritime Anti-Corruption Network (MACN) where I am a Senior Adviser. It is a global network of 180 of the largest shipping and logistics companies worldwide (representing 55 percentage of global tonnage). Among many of its service offerings, is a helpline for complaints on seaside corruption which can be registered by masters, companies, agents etc. These complaints are escalated to the government authorities, and pursued for a resolution. IMO validated the work of MACN in 2022.