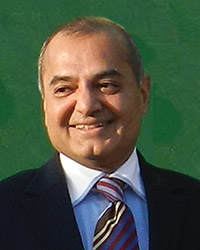 Dear Friends and Colleagues, At the stroke of midnight on the 15th of August 1947, India woke up to freedom and independence. Thus began India's tryst with destiny. 2022 is the year when India celebrates 75 years of Independence and nationhood. As has been said, that whilst we are an ancient civilisation, we also are a young nation. These 75 years have not only seen India transform, but also the world transition and transform. The major global changes since 1947 and post- World War II have been:
The end of the colonial era and therefore the end of colonial rule and colonies.
The end of colonialism leading to the creation of independent nations across all parts of the world, especially in Asia and Africa.
The beginning of 6 major types of government systems - communism, democracy, socialism, capitalism, autocracies/ dictatorship, and monarchies. All the large economies went into direct or indirect general people's representations.
Universal education, healthcare, growth in urbanisation, the shift of people from agrarian societies to industry and service fields for jobs and sustenance.
The transformation of European countries into an increasingly cohesive block from EEC to EU.
The growth of US into a 'singular superpower' status.
The rise and rise of fossil fuels.
Transformation led by industry, technology, electronics and computers.
The growth and sophistication of transportation and logistics supply chains, modular manufacture, ports, ships, air, road and rail.
In India - the Green Revolution in the 1960s and the White Revolution in the 1970s.
Bank nationalisation, socialism and centralism in the 1970s.
Industrialisation and the end of license raj in the 1980s.
Reforms, relaxation and the opening of the Indian economy and globalisation in the 1990s.
The growth of IT and the telecom industry the 2000s
Some interesting figures comparing the time of Independence and the present
| Category | 1947-57 | 2022 |
| --- | --- | --- |
| Population | 340 Mn | 1,400 Mn |
| Literacy Rate | 12% | 77.70% |
| Life expectancy | 32 Yrs | 69.66 Yrs |
| GDP | US$ 650 Bn (1INR = 4.16 USD) | US $ 3.535 Tr |
| Wheat | 6.46 Mn Tonnes | 106.84 Mn Tonnes |
| Rice | 20.58 Mn Tonnes | 129.66 Mn Tonnes |
| Pulses | 8.41 Mn Tonnes | 27.75 Mn Tonnes |
| Oil Seeds | 5.16 Mn Tonnes | 37.15 Mn Tonnes |
| Milk | 17 Mn Tonnes | 210 Mn Tonnes |
| Irrigation Area | 22 Mn Hectares | 68.4 Mn Hectares |
| Banks | 654 | 137 |
| Cement | 2.15 Mn Tonnes | 332 Mn Tonnes |
| Steel | 1.69 Mn Tonnes | 120 Mn Tonnes |
| Refining | 0.5 MMTPA | 248.9 MMTPA |
| Electricity | 1,362 MW | 403,760 MW |
Regrettably, we do not have consolidated data on ports. However, it is interesting to note and recall that till the 1st decade of the 21st century most of our ports did not have drafts exceeding 11 meters, and ports such as Kandla, Paradip, Haldia, Tuticorin and JNPT were effectively built after independence, and ports like Mangalore, Vizag and Chennai which existed pre-independence were expanded much faster after independence.
The large minor ports like Mundra, Pipavav, Dahej, Kattupalli, Gangavaram, Gopalpur, Karaikal and Dhamra are ports built in the 21st century. In the 1970s and 1980s, most ships had to lighten their cargo onto barges as ships could not come alongside due to limitations of drafts beam and LOA capability of ports. These limitations were there even with the so-called premier ports then like Mumbai, Chennai and Cochin. Due to the shortage of port capacity, ships waiting for 10 to 30 days to get a berth was very much the norm.
Whilst these figures of then and now are compelling enough to showcase India's growth, it is also important to bear in mind that our progress took place in a democratic system, unlike many other countries where either military, dictatorships or authoritarian systems were in place.
Today our India is in the top 5 nations with regards to GDP. We just overtook the UK as the 5th largest economy. US, China, Japan, Germany and India is the present order, and it is expected that by 2030 we should be ahead of Germany.
India has made impressive progress in several areas: pharmaceuticals, steel, automobiles, oil refineries, petrochemicals, engineering goods and services, information and technology services, agricultural produce, chemicals, textiles etc.
Along with this, we in the port sector have also kept pace with other successes. Over the last few years under the leadership and direction of our Honorable Prime Minister Shri. Narendra Modi, we have seen a roll- out of path-breaking initiatives such as Sagarmala, Bharatmala, PM Gati Shakti as well as digital infrastructure programs such as the Port Community System and the National Logistics Portal. With all these forward-thinking far-reaching initiatives, India is poised to take its rightful place - alongside the top most nations of the world.
This indeed presents an opportunity for us Indians and Indian companies to seize this opportunity and initiatives, and reach greater heights and success. Needless to mention this will only happen with tons of thoughtful hard work and mindful sustainable sacrifices and risks.
With great power comes greater responsibilities and a leadership position entails responsible actions. Climate change, environment protection, and therefore clean green energy will be one of the pillars for future growth. Green House Gas (GHG) and CO2 emissions will need to be fully eradicated. With abundant solar energy in most parts of India, harnessing and tapping into this source will be and should be a key thrust area for us. Clean renewable energy will generate green hydrogen which in turn can be converted into various forms of fuels. In the maritime landscape of India's growth, Indian flagged and Indian- owned tonnage will be necessary to ensure not only the transport and logistics industry's growth but also to enhance India's competitiveness in the global trade arena. India will also need to focus on and enable Indian-built ships to ensure its competitiveness as also security in global trade.
Today India can rightly boast of a port sector which compares with the best ports of the world, in terms of capability, capacity, cost and credibility. We have deployed the best technologies as well as processes and systems. The skill levels and skill sets of our people are second to none and it is not unusual to see our colleagues manning and managing several ports and terminals across the world. As was said earlier, we are a young nation though an ancient civilisation. There are indeed many milestones we need to pass through quickly. Our port sector will be handling 40 Mn TEUs from the present, less than 20 Mn TEUs by 2030, if not earlier. Our railway system will handle 15 Mn TEUs from the present 4 Mn TEUS. Our Inland waterway systems will be handling 15 percent of our traffic from the present 1 percent. Indian flagged ships will handle 50 percent of India's sea-borne trade from the present 20 percent. India is poised to enter the global supply chain system which would result in a further 2 to 5 percent addition al GDP growth year on year.
Coming to our regular report we have had a reasonable monsoon in most parts of the country which would again ensure a certain amount of stability in terms of inflation and food security. Volumes of trade and traffic have remained stable and there is an underlying trend of an imminent growth spurt. Geopolitics in the world does show troubles with the continuing Russia-Ukraine war, the tension between China and the USA; linked to the fear of a recession, especially in the US and Europe. On the other hand, several expert commentators have recently mentioned that the rise of commodity prices seem to have reached the possible highest point and is now turning downward. The worst seems to be behind us. It can be expected that the next 12 to 18 months we should be able to see complete recovery from these incredibly challenging COVID-19 years.
Expert committees have also affirmed that India is largely unscathed from recession trends, and should continue on a robust growth path.
It seems like a positive path for India @75.
Krishna B. Kotak
Chairman - J M BAXI GROUP