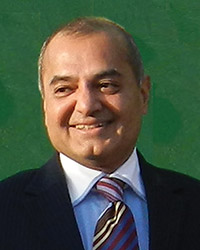 Dear Friends and Colleagues, Continuing our communication (regrettably) about COVID-19, China reported a major outbreak with Shanghai and Beijing imposing hugely unpopular lockdowns. On the other hand, countries in south-east Asia are gradually opening up. India too continues to open up, although daily infections are on the rise. Local authorities are urging care, and also encouraging and enabling vaccinations. Caution and care are going to be the most important words going ahead.
In the last couple of months, the subject of inflation has taken centre stage globally. The United States of America reported inflation crossing 8.4 percent, which has been so very different to the situation of the last decade and more. Along with this, the US Fed and the US Treasury had anyway begun the process of stopping/ stalling the easy money monetary policy and curbing excess liquidity. Whilst this was happening, there began the strengthening and increase of commodity prices led by crude oil and steel, and then came the Russian-Ukraine war. This led to Russia getting severely sanctioned by the US and European countries, which further led to commodities like steel, wheat, crude oil, natural gas, fertilisers etc. getting impacted. During this period the stock market all over the world, has been negatively impacted. Currencies apart from the US dollar have been impacted. Linked to this, we have also seen the global flow of capital being impacted, with volatility being the only constant. Truly a geopolitical- economic maelstrom. Specifically in our south Asian neighbourhood, we have seen a dramatic political change in Pakistan with a continuing tottering economy. We are also witnessing the economic collapse of Sri Lanka which may be headed towards a regime change. All this uncertainty is clearly reflected in the volatility of various stock markets around the world, as also the depreciation of various currencies as compared to the US. The USA itself is challenged with unprecedented inflation, leading to enhanced interest rates. A generation of money and business managers will find the new circumstances strange and unfamiliar, as for the last 15 years USA has not seen these parameters. Continuing with the USA, the container and cargo volumes seem to be holding on and is expected to grow. The US west coast ports continue to do well, the US east coast ports are also receiving ship calls from the Far East via the Panama Canal, and also seeing a growth in the Trans- Atlantic route volumes.
As is the norm, our July-September issue will report developments around the monsoons. For now though, present indications and reports suggest that we in India should witness a normal monsoon which will enable India to continue having good crop and agriculture production. This will hopefully, not only be sufficient for India, but also enable us to continue with our export drive. Over a period of time we have seen that consistent exports of any commodity also leads to the possibility of value addition, which further assists in enhancing volumes and value of exports. Whilst we are on the subject of export and trade, India successfully negotiated, signed and created two historic Free Trade Agreements (FTA's) with the UAE and Australia. These two agreements should be the forerunners to similar agreements with other nations. Over the last 2 years trade wars, COVID-19, the Russia Ukraine conflict, commodity prices, volatility, inflationary pressures, and increase in interest rates have been the new normal. This has led to the supply chain disruption, and also redefined the concept of globalisation. We will see that bilateral relations between nations will increasingly be the norm. More than globalisation, regionalisation will perhaps take on a greater role.
One of the consistent challenges in agriculture is the season-on- season, year-on-year production of food grains. This year due to the heatwave, the crop estimates had to be revised downwards which led to India suddenly having to take a decision to prohibit the export of wheat. The Russian- Ukraine conflict (with both countries being wheat exporters) resulted in demand for import of wheat in counties like Egypt, Turkey, Bangladesh etc.
Trade volumes in India have held steady. The cumulative cargo volume at Indian ports, have not shown any major changes with huge increases in cost. In the petroleum sector, the import of gas (both LPG and LNG) has been impacted and it is left to be seen if volumes get affected, in due course.
The heatwave in India also led to a historic high usage of electricity, which resulted in outages and load shedding in some parts of India. Some of the major power plants reported the inadequacy of coal supplies. At the time of writing this, there is a debate on the necessity to import coal for some power plants, and with coal prices being elevated, it could result in further financial stringency.
As per reports, the global container shipping lines are continuing to report record profitability and some reports seem to suggest that for the year 2022, container shipping lines are likely to sail into profits of $250 Bn. Furthermore, the present order book for new containers or ship building is almost at 26percent of the present capacity. On the other hand, major customers of container lines such as Walmart, Target etc. have declared muted profit figures, and do not seem too optimistic about the robustness of trade and crippling cost increases. This begs the question - is the US heading for stagflation? Most classes of ships have done well, tankers both clean and dirty, chemical carriers, product carriers as also VLCCs. It is the same for bulk carriers across almost all sizes. Gas carriers have been coping, despite the gas trade disruption. With crude oil and gas prices being high, the offshore oil and gas orient fleets should also start doing well, such as Offshore Support Vessels (OSV's), Platform Supply Vessels(PSVs), Anchor Handling Tugs(AHTs) and drillships.
On the container ports front, the US west coast and US east coast ports have had record-setting years. European ports have done well too, led by the big three - Rotterdam, Antwerp and Hamburg. A couple of interesting developments are the enhancements of terminal facilities; one at port Damietta, the second at the Atlantic and the other at the Panama Canal.
As regards to our group of companies, the three exciting developments have been the coming together of the top 3 heavy lift project transportation companies - Boxco Logistics, AllCargo and Lift & Shift into J M Baxi Heavy. This puts us in a very interesting position, of being able to offer a higher level of service to our customers. Our objective will be to climb up the sophisticated and specialised chain of service offering. Increasingly, we are seeing customer expectations from service companies such as ours, going higher. Customers are looking for solutions, and not just hiring people and equipment. A hearty welcome to the combined new team of J M Baxi Heavy. We wish you greater success.
The second exciting development has been the full operation of Visakha Container Terminal-2 at Vizag. Visakha Container Terminal is now almost a kilometer long facility, with the ability to handle the post-Panama class ships. In the last couple of months, some of records that we achieved at Visakha Container Terminal were:
Three ships berthed alongside - two main lines and one feeder
The productivity achieved by Visakha Container Terminal, has positioned it as a major container port and terminal, on the upper East Coast of India.
Our unparalleled level of service, competitiveness coupled with the connectedness to the hinterland, several large global leaders are starting new and large services and looking at Visakha Container Terminal as a transhipment base. A small wager – by 2030 Visakha Container Terminal-1 and 2 will achieve 2 Mn TEUs!!!
Lastly, Mumbai Port Authority and the Ministry of Shipping and Ports hosted a conference for the cruise shipping industry. With the abating of COVID-19, the cruise shipping industry is making a strong comeback. The global cruise industry is looking to making a strong come back in the Indian Market. The new terminal at Mumbai - The Ballard Pier, should be ready to open its doors by 2023, and will be operated by J M Baxi Ports and Logistics.
Dear friends and colleagues, we go into the second half of 2022 with a massive global inflationary trend. Geopolitical instability and an ongoing war in the heart of Europe, massive volatility in commodity prices, demand and supply mismatch, a disruption in the food supply chain, and food insecurity in many parts of the world, the beginning of a paradigm shift in lifestyle, consumption patterns etc. Along with climate change, global warming, pollution and economic challenges also come opportunities. India should continue pushing for growth in the manufacturing sector with initiatives like Make in India, the PLI scheme and AatmaNirbhar Bharat. India should also continue in the service and infrastructure sector development with PM Gati Shakti, Sagarmala programmes, Swachh Bharat mission and smart cities development.
Signing off with hope for a great monsoon for India, and wishing you all a safe WFO (work and welcome from office).
Krishna B. Kotak
Chairman - J M BAXI GROUP