The existing trunk routes of Howrah-Delhi on the Eastern Corridor and Mumbai-Delhi on the Western Corridor are highly saturated, with capacity utilization varying in the range of 115 per cent to 150 per cent. Though the four routes that form the Golden Quadrilateral - connecting Delhi, Mumbai, Chennai, and Kolkata together with two diagonals (Delhi – Chennai and Mumbai – Kolkata), account for hardly 16 per cent of the railway network's route length, they carry more than 55 per cent of total rail freight of India. Apart from this, the National Highways along these corridors, comprising 0.5 per cent of the road network, carry almost 40 per cent of the road freight.
With freight traffic projected to grow at more than 7 per cent annually, Indian Railways urgently needs to add capacity to these routes. In April 2005, India and Japan announced collaboration for feasibility and possible funding of the dedicated rail freight corridors, and RITES Limited was entrusted with the feasibility study of both eastern and western corridors. The feasibility study report was submitted to the Ministry of Railways in October 2007.
The Dedicated Freight Corridor Corporation of India Limited (DFCCIL) was incorporated by the Indian Ministry of Railways to undertake planning and development, mobilization of financial resources and construction, maintenance and operation of 'Dedicated Freight Corridors' or DFCs.
CURRENT STATUS
Golden Quadrilateral Freight Corridor (GQFC) consists of 6 DFCs: presently, two DFCs i.e. Western DFC & Eastern DFC is under implementation and funding for the remaining four has been approved in January 2018. The maps (in figures) show the alignment and length of both the corridors which are underdevelopment. The 1st stretch of ~320 Km, between Rewari and Manwar, on Western DFC has been completed recently.
FEATURES OF DEDICATED FREIGHT CORRIDOR
Dedicated Freight Corridors are proposed to adopt world-class and state-of-the-art technology. The DFC under implementation will have the following features:
SIGNALLING & TELECOMMUNICATIONS
Sophisticated train protection and warning systems
Centralized train management system
Global system and mobile communications for railways
CIVIL ENGINEERING
Mechanized track laying
Higher axle loads
Modern crossings/ turnouts
Friction buffer stop to enhance the safety
OTHER FEATURES
GPS-based real-time tracking system
Modern Supervisory Control and Data Acquisition (SCADA) and protection system
Computer simulation tools
Impact of Dedicated Freight Corridor (DFC)
DFC is likely to provide time-table based freight services.
Maximum container rake load on DFC - 360 TEUs as opposed to 90TEUs at present.
General rake load on DFC - 13000 M T as opposed to 3500 MT at present.
Cost of operations on DFC will be about 45 paise per ton-Km as compared to the present cost of 95 paise per ton-Km.
Eastern Dedicated Freight Corridor will meet Western Dedicated Freight Corridor at Dadri.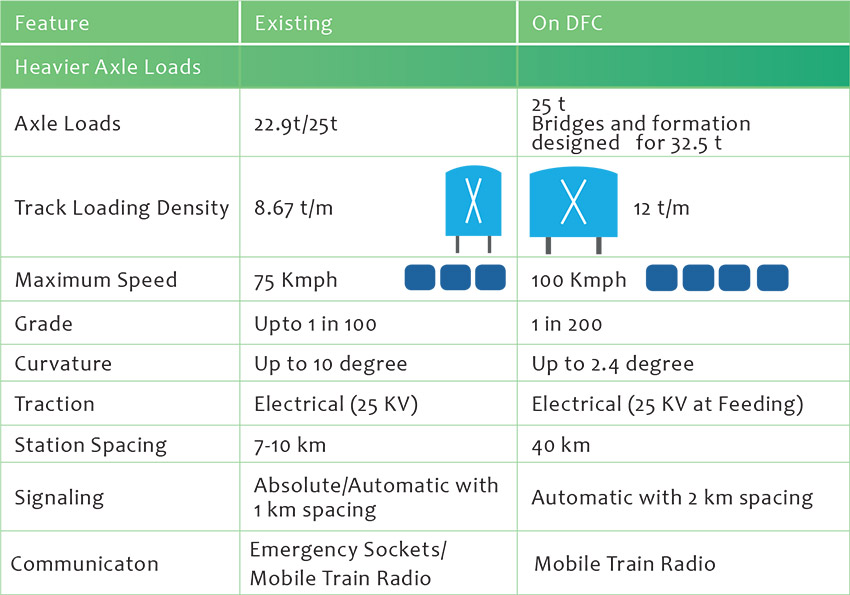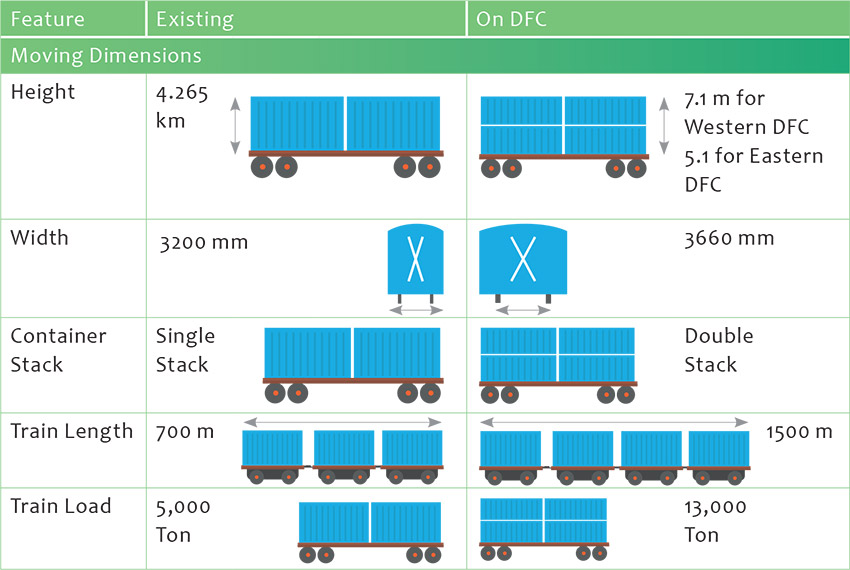 INDUSTRIAL CORRIDORS PLANNED ALONG DFC
The area within the radius of 150 Km along the DFC is demarcated as Industrial corridor. On Western DFC, Delhi-Mumbai Industrial Corridor (DMIC) is planned. It is a project for comprehensive infrastructure development to create India's largest industrial belt zone by linking the industrial parks and harbours of the six states between Delhi and Mumbai in order to promote foreign export and direct investment. Under the DMIC initiative, plans are also being implemented to create industrial parks and logistics bases with welldeveloped infrastructures in the area 150 kilometres to either side of the Western Corridor. Similarly, along the Eastern DFC, Amritsar Delhi Kolkata Industrial Corridor (ADKIC) is planned for developing an Industrial Zone spanning across seven states in India.
DFC will act as a key economic enabler and the two corridors will change the way goods are transported in India.